Releases from Rolf
21 March 21, 11:22
Heart Healer - The Metal Opera by Magnus Karlsson (2021)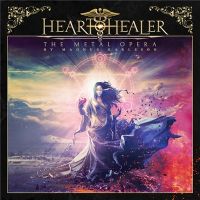 Artist:
Heart Healer
Album:
The Metal Opera by Magnus Karlsson
Year:
2021
Style:
Power Metal, Symphonic Metal, Hard Rock
Country:
Sweden
File size:
146 Mb
Tracklist:
01. Awake
02. Come Out Of The Shadows
03. Who Can Stand All Alone
04. Back To Life
05. Into The Unknown
06. When The Fire Burns Out
07. Evil's Around The Corner
08. Mesmerized
09. Weaker
10. This Is Not The End

"The Metal Opera By Magnus Karlsson" – это эпическая метал-опера с участием семи выдающихся вокалисток, которые играют разные роли, вплетенные в ткань эпического повествования. Среди них как молодые дарования, так и артистки с именем - Адриенн Коуэн (Seven Spires, Sascha Paeth's Masters Of Ceremony, Avantasia), Айлин (Her Chariot Awaits, Sirenia), Нетта Лауренне (Netta Laurenne, Smackbound, Laurenne/louhimo), Йумна Йреиссати (Ostura), Ноора Лоухимо (Battle Beast), Маргарита Моне (Edge Of Paradise) и Анетт Олзон (The Dark Element, Nightwish).
Links:
1.
https://www.filecrypt.cc/Container/128AFC690C.html
2.
https://uiz.io/lWCHuQ
[ Views: 240 | Comments: 0 ]